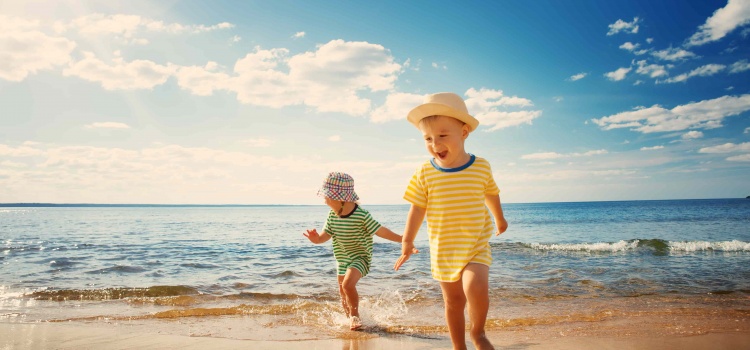 The 5 best beaches for children in Mallorca
The 5 best beaches for children in Mallorca
A shallow, sandy beach, surveillance, showers, easy access for carts, nearby restaurants and areas with shadows are some of the requirements to enjoy a day at the beach with children. That's why, today from Smart Renting, we want to share with you the 5 beaches of Mallorca most suitable for your kids:
1.Playa d'Alcúdia                       
It is a beach of fine white sand of great size (7 km) that borders the entire bay of Alcúdia. This beach offers a wide range of leisure activities both on the water (windsurfing, veil seas) and in the sand with bars, as well as having a playground with swings in the area of Puerto de Alcúdia. In addition, there is a rental service for sunbeds and parasols which is very good for children to protect themselves from the sun.
2. Playa de Palmanova
The biggest advantage of this beach is that it is near Palma (10 minutes by car) and also has a large area of shade thanks to pine trees at the end of the beach. Close by there is a chiringuito with affordable prices and a playground where children can play. It is located in a very touristic area so it is surrounded by hotels, restaurant and all kinds of services.
3. Playa d'es Port, Colonia de Sant Jordi
It is a very clean and tourist beach with all the services. Many families are placed in the area of pines that has this beach at lunchtime. In addition, it is a good area for surface diving with children, as it is full with fish very close to the shore.
4. Cala Millor
This beach of 1,800 meters long belongs to the municipalities of Sant Llorenç and Son Servera. It is a beach of fine white sand and clean and transparent water that around it has numerous services (restaurants, hotels, shops etc.) and surveillance. The large area offers a rental service of umbrellas and sun loungers. In addition, the car parks are located near the beach, which facilitates the transport of luggage and arrival at the beach.
5. Santa Ponça beach
Located in the municipality of Calvià is a beach frequented by resident families and tourists, since it has a simple access and has a walkway and showers. Also, there is an area of pine trees, a playground and an area adapted for beach sports. In addition, you can park in a public parking near the beach.