COVID-19 SAFETY
We have developed a series of hygiene measures to guarantee the safety of our guests, committing ourselves to follow a strict cleaning process for all managed properties and villas.
5 PRE-STAY MEASURES
Preparation of the accommodation for the correct cleaning of all spaces (general ventilation and use of gloves and masks from the cleaning team).
Intensive cleaning of each room (floors, countertops, hard surfaces)
Disinfection of all contact surfaces (doorknobs, drawers, knobs, hangers) using antibacterial products.
Bedding is washed at 90 degrees to ensure complete disinfection.
Pots, pans, kitchen utensils, plates, glassware and silverware are washed and sanitized at the highest temperatures.
ARRIVAL AND STAY
The property is ready and sanitized. However, our commitment does not end there.
Entry without physical contact. We keep the distance of 2 meters, mandatory mask.
Disinfection pack available to the guest: disinfectant gel for hands, masks.
Antibacterial hand soap included in every bath.
Extra kitchen paper and tissues available.
Multi-surface antibacterial cleaner available.
We understand that it is our job to do everything necessary to protect the property and its guests, following the same process between departure and arrival in order to keep the spaces totally safe and tidy.
Rent your property
with tranquility
Do you want to get the maximum return on your property?
Publication of the advert, reservations, house cleaning, welcoming guests…
We take care of everything.
Do you own an apartment, a house or a villa but you don't have enough time, you don't live in the island or you just don't want to manage your property? We provide the best options to optimize your investment.
FILL IN THIS FORM OR CALL US
We give you advice depending on your accommodation's characteristics and availability. We arrange an appointment and we choose together the services that best suit your needs.
ADVERTISE YOUR PROPERTY
The advertising of the accommodation is very important. Therefore we advertise your home in the most competitive platforms.
SMART RENTING takes care of the rest
From commercial and reserves management to full client assistance. We guarantee optimum results without you having to worry about anything.
RENTAL MANAGEMENT
The short-term rental is the best alternative for those who seek a high return on their property.
Cleaning your property
For an unbeatable experience of your guests, we do a thorough cleaning of your accommodation.
Sheets and towel replacement
We prepare a complete set of clean sheets and towels, depending on the number of travelers.
CHECK IN/CHECK OUT
On arrival, we provide your guests all the necessary information and we deliver the keys. When they are leaving, we proceed to the collection of the keys. We also carry out a general review of the state of the housing.
24-HOUR CONSULTING
We are in communication with your tenants and solve all doubts from the booking to the end of the stay.
André & Anny Forget-Ries
"These few lines confirm that we are very satisfied with our collaboration and professionalism. We hope and hope that our partnership will continue in the future and we will not fail to send you other people. Thank you for everything."
María Blas Hernández
"I am very happy to have changed to this agency. Since they manage my property, it's rented all the time, which did not happen previously.I hope and wish that everything will continue for a long time.Thank you for your professionalism and your human quality. "
Adolfo Taberner
"Our experience with Stefan & Chloé's agency is unbeatable. They are very professional and the treatment with the clients is exquisite. Very friendly and competent. I recommend everyone to work with them".
Ana Garcia
"As owners of our property in Son Sardina "Es Moli Del Reis" we are very satisfied with the professionalism with which Mrs. Chloé and her team manage the rentals. They give us peace of mind and are always there when you need them".
Catalina Crespi
Smart Renting Mallorca stands out for being very practical and effective in its management tasks, they solve any incident in a minimum time and they are completely devoted with us and our clients. They are very competent and professional. We dedicate this comment to you because we are delighted with them and we feel that our properties are in good hands. Miquel and Cati.
María Antonia Pomar
Estoy muy satisfecha con el trabajo de Chloe y Stefan por su rápida y eficaz respuesta en la gestión de lo que surge
Juan Perello
Our experience with Smart Renting has been very satisfactory at all times. The help they have given us, their advice and willingness to improve the offer have resulted in very positive results. Chloé and Stefan have always been willing to help both customers and us with kindness and efficiency.
Rafael Jaume Serra
The experience and personality of Smart Renting with Chloe and Stefan gives me great satisfaction and security. There are efficient and always available to the clients and me as the owner.
RENT TO COMPANIES
An alternative to long-term rental totally legal, safe and profitable.
In the real estate sector, the seasonal lease of more than one month, regulated by the LAU (Urban Leasing Law), is booming. Companies that send workers temporarily to Mallorca pay in advance, so there is no risk of default. On the other hand, being short-term rental, it is presented as a more profitable option than that offered by traditional rentals.
It's all benefit: since we are talking about temporary rentals to professionals and not vacation rentals it is not necessary to request any kind of license. On the contrary, if you are managing holiday rentals, the short stay rental allows you to complete the low season occupancy of your accommodation, both options being compatible.
No commission costs for you as we charge it to the company and not to the owner.
We handle the tax issue by issuing invoices monthly to companies, avoiding taking charge of the administrative part.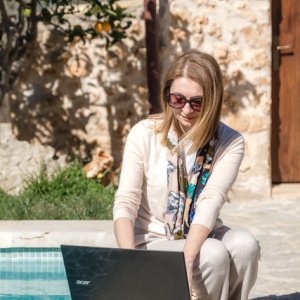 Chloe Richebourg
Sales Manager
Stefan Hunger
Public Relations
Smart Renting Mallorca is dedicated exclusively to rental management in the Balearics. Our main goal is to help homeowners get more out of their investment by seasonal rentals.
Moreover, we offer furnished apartments to companies looking for short-term rentals for their workers.
Any unresolved questions?
We are at your disposal for any further information